Central air conditioning is a staple in most modern homes. But a recent report by the Energy Institute at Haas shows there are still some 14 million U.S. households without A/C. Granted, people living in cooler climates might not need it. For the rest of us, living without air conditioning can make things uncomfortable when the mercury starts to rise.
Whether you need to know how to keep your house cool in summer naturally, are looking for air conditioning alternatives to save on energy costs or just don't like using A/C (Freon headaches are the worst), read on for some tips.
1. Invest in the Right Ceiling Fans
When keeping your house cool in summer, it's important to note ceiling fans don't actually cool your house. They circulate the air, which helps you feel cool as the air moves over your skin. For the science geeks out there, this is evaporative cooling — moving humid air away and replacing it with drier air.
Still, ceiling fans are critical for convective cooling, which relies on air circulation in the house to move warmer air out and pull cooler air in. A prime example would be a nighttime flush, which we explain a little farther down.
New ceiling fans may be costly upfront, but they are much less expensive than installing and using A/C in the long run. When purchasing a ceiling fan, pay close attention to its efficiency rating. Fan manufacturers measure efficiency in cubic feet per minute (cfm) of airflow per watt of electricity. Shoot for something that gives you 100 cfm per watt. That said, even the most inefficient ceiling fan (30 cfm per watt is considered poor) would cost about $120 per year in electricity. That compares to the roughly $120 monthly cost of running central air for six hours a day.
"Ceiling fans are incredibly energy efficient, and our Energy Star-certified Haiku fans really stand out. If you run a Haiku fan nonstop for a year straight, you can expect to pay between $5 and $10 in electricity."

Dan Nelson, General Manager | Big Ass Fans
You'll also want the right size fan for the room. Nelson suggests a 52-inch fan for rooms that are 15 feet by 15 feet or smaller. Larger rooms that are 30 feet by 30 feet or more need an 84-inch fan.
Tips for Buying Ceiling Fans to Cool a Room
DC-powered fans use 70% less energy than AC-powered fans and are much quieter.
Fans with fewer blades are more efficient. Choose a fan with three or four blades.
A fan with a steep blade pitch, around 15 degrees, will move air better than a fan with flat blades.
Remember the longer the fan blade, the higher the efficiency.
Depending on the type of fan you buy, expect to spend anywhere from $50 to $1,500. Unless you do it yourself, having a professional install your fan may cost another $100 to $600.
2. Optimize the Fans You Have
If new fans aren't in the budget, take steps to improve the ones you have. Here are a few maintenance tips for cooling down a room with fans more efficiently:
Run Fans Counterclockwise
During the summer, set your fans to spin counterclockwise to push cooler air into the rest of the room. Switch it to clockwise on a low setting during the winter months to pull cool air up and slowly force the higher warm air down into the room.
Lower Speed to Increase Efficiency
If you're looking for that windchill effect, running your fans counterclockwise on their highest setting is great. But if you got the biggest fan for your room size, you won't have to. Running your fan at the lowest speed that keeps you comfortable is one of the best ways to cool a house without spending too much.
Clean Your Fans Regularly
Keeping your ceiling fan dust-free isn't just hygienic — it can also help your fan work better. Dirt on fans can heat the motor, which can make them run more slowly.
Polish the Blades
Polishing a fan's blades helps reduce drag, improving its ability to move air. To do this, remove the blades and wipe them down with a damp cloth. Then, dry and coat them with a light furniture or metal polish, depending on the material of your blades. Let them dry completely before reinstalling.
Fix Any Wobbling
If your fan is wobbling, it's working a lot harder than it has to and won't cool your room down well. Tighten or replace loose screws in your fan, including within the light fixture.
Oil Your Fan
Five to six drops of light machine oil can get rid of annoying squeaking sounds and help the motor run more efficiently. Unfortunately, you can't oil fans that have motors completely sealed. Look up your manufacturer's guide for instructions on oiling your ceiling fan.
3. Flush Out Hot Air in the Evening
In the evening, it's usually cooler outside than inside. Take advantage of that by flushing hot air out and bringing that cooler air in. This is one of the best ways to cool a house fast. If you have double-hung windows, open the top sash while leaving the bottom sash closed and run your ceiling fan counterclockwise. The fan circulates the air, pushing the rising warmer air out the window while drawing in the cooler nighttime air.
If your house has multiple stories, be sure to open upper-story windows to let out the hot air. You can even install window fans in the upper-level windows so they're blowing outward, pushing the rising warmer air out to cool down the house faster.
Pro Tip: Don't obstruct airflow when running fans. Leave your interior doors open and try not to cover your windows with heavy drapes, curtains or blinds.
No ceiling fan? Try installing a box fan in a lower window while leaving the upper windows open. The fan will draw in cooler night air while the warmer air escapes through the higher open windows, improving air circulation in the house. A free-standing fan positioned in front of an open window also does the trick. Just be mindful of how accessible the lower windows are from the ground for safety reasons.
"Then in the morning, shut your windows and blinds to trap that cool air in, and then you can start the day off at a much lower temperature," Nelson says.
4. Update Your Insulation
Those comfy cool temps won't last long if your roof and walls aren't properly insulated. Insulation helps keep your house at a consistent temperature. Make sure you have the best insulation for your attic to keep your energy costs down. If your attic is under-insulated, replacing insulation in your attic can be an easy DIY job.
Don't forget to check your walls. If you're unsure, here are a few simple ways to see if your walls are insulated that don't involve tearing out your drywall:
Drill a small hole in the wall. Pick a spot behind a framed picture or in a closet connected to an exterior wall to keep the hole hidden. Slide a wire hanger through the hole. If you hear tapping on the other side, there's no insulation in that section.
Look behind a baseboard. Use a prybar and carefully pull your trim away at the bottom of the wall between the floor and drywall. You'll see the insulation in the gap at the bottom if it exists.
Check behind an outlet or light switch. Shut off the circuit running to the outlet or light switch and remove the screws to the panel. You should see insulation around the electrical box. You can pull it out a little just to be sure.
Expect to pay between $3,000 and $10,000 to insulate a 2,000-square-foot home. If you do it yourself, you can save anywhere from 25 cents to $2.50 per square foot in labor costs.
5. Weatherize Your Windows and Doors
Can't afford to replace every single window in your house? We feel you. But you can still make simple updates to improve their efficiency and keep your house cool without A/C. First, check your windows and doors for sunlight coming in through cracks or spaces on the exterior and interior. Use polyurethane caulk to seal any spaces around your windows or doors. It's paintable and won't attract dust. Just take care not to caulk over your window's weep holes — small holes at the bottom edge of your window frame that allow the window to drain.
Attaching weatherstripping to a door is a simple DIY job, and the kits usually cost less than $20. Self-adhesive weather stripping is great for insulating casement, metal and vinyl-clad windows. For wood window sashes that slide along a track, consider replacing the track with one that has insulating brushes.
If haven't replaced your windows in more than 20 years, it might be time. This energy-efficient upgrade also prevents energy waste during the winter, saving you money on your heating bill. Remember the lower the window's u-factor, the better it insulates. Shoot for double-paned windows with a u-factor of 0.22 to 0.23.
6. Switch to No-Heat Lightbulbs
Incandescent lightbulbs emit a lot of extra heat, so switching to low or no-heat bulbs like compact fluorescent lightbulbs (CFLs) is a simple way to keep your house cool in the summer.
LED lightbulbs don't generate any heat, making them safer to touch. They're also safer to use near insulation and last longer. Just know that you'll spend a few dollars more. On average, an LED bulb will cost you $5, compared to $3 for a CFL bulb and $1 for an incandescent.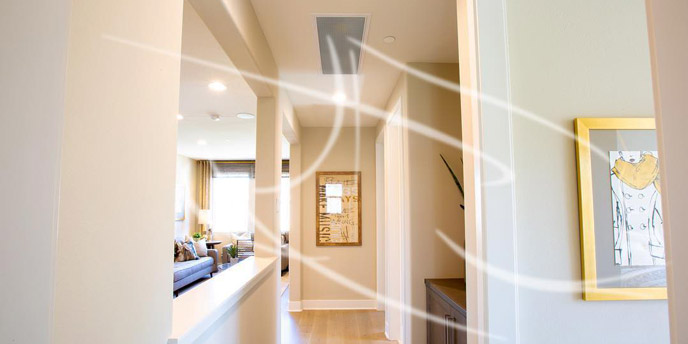 7. Install a Whole-House Fan
If you've tried every last house cooling hack and it still feels like you're walking on the sun, you might want to invest in a whole-house fan to ramp up air circulation in your house.
Whole-house fans use just 10% of the energy of a traditional A/C unit and are much cheaper to install. And unlike air conditioning, which uses chemicals to push cooled air into your home, whole-house fans pull heat out and cool down a house naturally.
"A/C keeps cold air trapped inside, but a whole-house fan can actually cool the mass of your home. It can pull out heat sitting in or on your walls, furniture and even appliances and vent it out through your attic, keeping your home cooler overall. Whole-house fans can also improve indoor air quality by keeping fresh air running through your house."

Scott Trento | QuietCool Whole House Fans
As you might expect, larger fans with better cfm ratings cost more. Use this chart to figure out what cfm rating you need and how much it will cost:
| | | |
| --- | --- | --- |
| Home Square Footage | CFM Rating | Whole-House Fan Cost |
| 1,500 | 6,000 | $400-$1,300 |
| 2,000 | 8,000 | $500-$1,400 |
| 2,500 | 10,000 | $600-$1,500 |
| 3,000 | 12,000 | $700-$1,600 |
Unit costs will depend on the size of the fan you select and its motor type. Unless you're a licensed electrician, this isn't a project you can do yourself. Professional installation of a whole-house fan runs $600 to $3,600 for parts and labor.
You'll also need the proper construction permits for this project. Depending on where you live, expect to pay $10 to $500 for an electrical project permit, and $250 to $400 if your city requires permits for major HVAC changes.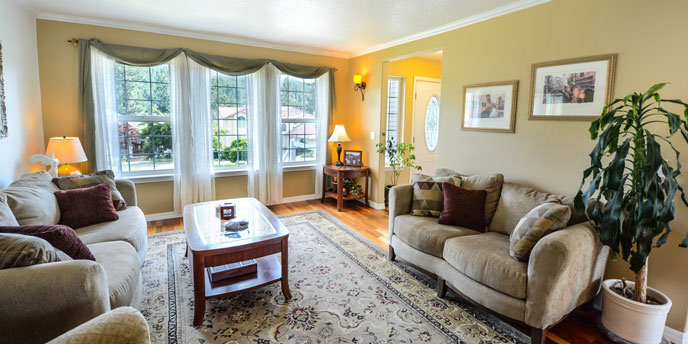 How to Cool Down a Room Without A/C
Just need a simple solution to keep the room you're in cool? We've got you covered in the living room, bedroom, kitchen and attic.
8. Create a Crosswind With Multiple Fans
A breezy crosswind is a simple way to keep your living room or bedroom cool in summer. If you have windows across the room from each other, try creating a crosswind using two fans. Open the window on the side of the room not hit by direct sunlight and either install a box fan or set up a pedestal fan in front of it, directing the airflow into the room.
Then, install a box fan in the opposite set of windows pointed out so it pulls the air, creating a nice breeze through the room. Only have one fan? Set it up in the first window and make sure the open second window is directly across from it to push out the warmer air.
You can usually find the fans you need at any big box store. Box fans can run $12 to $40. Pedestal or oscillating fans can range from $30 to $500 each. And window fans can cost anywhere from $30 up to $200.
9. Cover the Windows
Heat transfer occurs when direct sunlight passes through a window, turning it into heat energy and trapping it inside — not great when you're living without air conditioning. Choosing window coverings to block that light can help reduce the amount of heat that comes in through the windows, keeping your house cool without A/C. Options include insulated curtains, white-backed blackout shades, aluminum foil, bubble wrap, window film or just hanging a quilted blanket in front of your window.
There's no hard rule on what time of day to cover your windows to reduce heat, says Jeff Lee, product specialist at ZebraBlinds. He recommends closing the window and covering it when direct sunlight is coming through. For East-facing windows, that's in the morning. West-facing windows get more heat and light in the afternoon.
"Our best recommendation for this is honeycomb cellular shades. These shades have a honeycomb fabric structure that creates a thicker barrier at your window when compared to other window treatments, reducing heat transfer and increasing the energy efficiency of your window. This makes them great not only for the summer, but they work well during the winter by preventing the warm air inside your home from escaping. You can get them in a blackout fabric, which blocks all light through the material, further reducing incoming heat from the sunlight."

Jeff Lee, Product Specialist | ZebraBlinds
For custom shades, expect to spend anywhere from $80 to $400 per window depending on the size and options, Lee says. The main differences include selection and quality of fabrics, materials and colors, as well as lift options, such as remote-control motorized shades versus regular cord lifts.
Depending on size and material, thermal curtains can cost anywhere from $15 up to $100, while blackout curtains can cost up to $500 per panel. Fortunately, measuring and hanging curtains is an easy DIY job.
10. Add Outdoor Shade
You can keep your house cool in the summer naturally by using shade to block direct sunlight from hitting your windows. Block the sun's rays by landscaping with trees to increase privacy or adding a few strategically placed plants. Installing an awning to keep the sunlight off your windows boosts your home's value and curb appeal as well.
Awnings typically come in four shapes — sloped, concave, convex and domed — and can be fixed or retractable, depending on the material:
Fabric: Typically made of polyester, acrylic or vinyl in different levels of thickness.
Metal: Usually made of aluminum. Ideal for areas with harsh weather.
Polycarbonate: While made from a transparent thermoplastic, polycarbonate awnings can block out the entire ultraviolet (UV) spectrum.
Costs can range from a few hundred dollars for a simple, fabric awning to a few thousand for a larger, motorized awning. Expect to pay anywhere from $1,345 up to more than $4,000 in parts and labor for a professional awning installation. The average homeowner pays about $2,700 for professional installation but could save $135 to $435 in labor if they do it themselves.
Just be sure to check with your town's building department to see if you need a permit before adding an awning. Odds are you won't need one, but it never hurts to ask. And if your neighborhood has a homeowners association, particularly condo developments, you'll likely need a permit.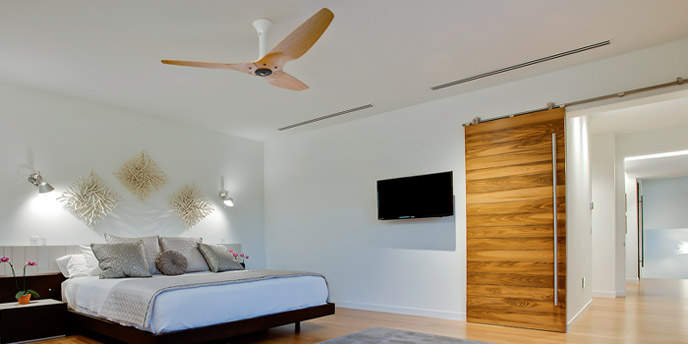 11. Run Ceiling Fans at Night
When your bedroom is too hot it can make falling asleep and staying asleep difficult. Cool down the room by running your ceiling fan to flush warm air out. Keep the fan running all night to circulate the air and maintain a nice breezy effect to maximize your comfort. But try to avoid running your fan for longer than eight hours, which can lead to overheating or damage.
Keeping the window open and letting the fan circulate the fresh air may also increase your oxygenation levels and overall sleep quality.
12. Use Window Fans
If you don't have a ceiling fan, a window fan can circulate the air and create a mild breeze. Pairing it with a second set of windows can help create the crosswind described above. If you only have one bedroom window, purchase a dual window fan. You can set one side to bring the cool night air in and the other fan to draw the warm air out, creating a mini current.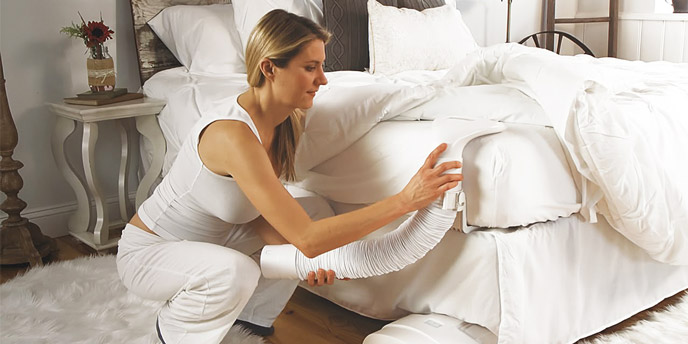 13. Spot-Cool Your Bed
If you're trying to cool your room with fans, focus your efforts on your bed. Use a pedestal fan to push cooler, middle-room air onto your bed while you sleep. Keeping your body's core temperature lower will help you sleep better.
The climate-controlling BedJet fan uses the coolest air that sits on the floor of your room to help you stay cool under the covers on the hottest summer nights. BedJet systems range from $379 to $949, according to the company website.
"The BedJet is designed to get rid of the main reason you're feeling hot and stuffy in bed: body heat and moisture. It pulls air from the floor of your room, which is typically a few degrees cooler than the temperature reading on your thermostat. It is really effective for keeping you cool in bed if your bedroom is 78 degrees and under."

Sarah McClutchy | BedJet
14. Avoid Using the Stove
Using your stove or oven adds unwanted heat to your kitchen that can travel to other parts of the house. Keep your house cool in the summer by limiting your cooking to the early morning and planning dinners that require little to no heat, like pasta salad or lettuce wraps. For a hot meal without a hot kitchen, try grilling out or using a slow cooker.
15. Use Appliances Efficiently
All your appliances generate heat, which makes it difficult to keep a house cool without A/C. So, try to be strategic about when you use appliances. Wait until the evening or early morning to run your major appliances, like your dishwasher, washing machine and dryer. Don't run them until you have full loads to maximize your energy and water usage.
Pro Tip: Is it a beautiful, sunny day? Avoid running your dryer altogether and hang your clothes on a line outside. They'll dry great and the breeze will leave them smelling sweet.
Plugged-in electronics generate heat even when they're off or not in use, which can make an already hot home even hotter. Unplug things like toasters, fans or device chargers when you don't need them.
16. Improve Attic Ventilation
No matter how well you seal your attic off from the rest of the house, poor ventilation can affect your home temperature and energy efficiency. Depending on where you live, your attic can reach temperatures of up to 160 degrees Fahrenheit on a hot day.
If your ceiling is warm to the touch, your attic is storing heat and you need to improve your attic ventilation. A properly vented attic will allow air to enter from the eaves and exit through its peak. Consider these solutions:
Installing roof vents allows warm, moist air to rise and escape through your roof's peak. Of the two types — box and ridge — ridge vents are more popular because they blend in with your roof and keep critters out. A box vent can cost $500 to install, including labor and materials. Ridge vent costs can run up to $650.
Adding soffit vents allows air from the outside to enter the attic from under your roof's overhang. Using them with roof vents promotes good airflow. Soffit vents typically cost $315 to $465 for parts and labor.
Placing gable vents at each end of your roof allows for extra airflow. These are great for supplementing soffit and roof vents but aren't effective by themselves. Gable vents cost $60 to $150 per unit, plus $70 per hour in labor.
An attic fan helps draw the warm air out of your attic, particularly in hot or humid areas. Expect to pay $100 to $400 for a fan if you're installing one yourself compared to $350 to $1,000 to have a pro install it.
If you know what you're doing and are comfortable working on your roof, you can do these projects yourself and save on labor costs. Otherwise, we recommend hiring a professional.
17. Opt for a Metal or Light-Colored Roof
Infrared and UV rays from the sun will heat your home and can damage a traditional asphalt shingle roof over time. Replacing your roof with the right materials and coatings is one of the best ways to cool down a house, and it can save you as much as 40% on annual energy costs if done right.
An unpainted, low-glare metal roof will reflect most non-visible infrared and UV rays, says Renee Ramey, executive director of the Metal Roofing Alliance. Even a darker metal roof can help lower home temperatures by emitting as much as 85% of solar heat gain, she says.
"Many cool metal roofs are Energy Star-qualified based on total solar reflectance and thermal emittance properties, a term that describes how much of a material's absorbed energy is released and emitted back into the atmosphere (versus causing indoor temperatures to rise). The Environmental Protection Agency estimates an Energy Star-labeled roof can lower roof temperatures by as much as 100 degrees Fahrenheit."

Renee Ramey, Executive Director | Metal Roofing Alliance
Color choice also plays a role in lowering temperatures. White roofing products reflect 60% to 90% of sunlight, reports the U.S. Department of Energy. Additionally, using special color pigments for dark roofing materials can reflect 30% to 60% of sunlight.
On average, metal roofs cost $5,500 to $15,000, depending on square footage and material.
How to Creatively Keep a House Cool Without A/C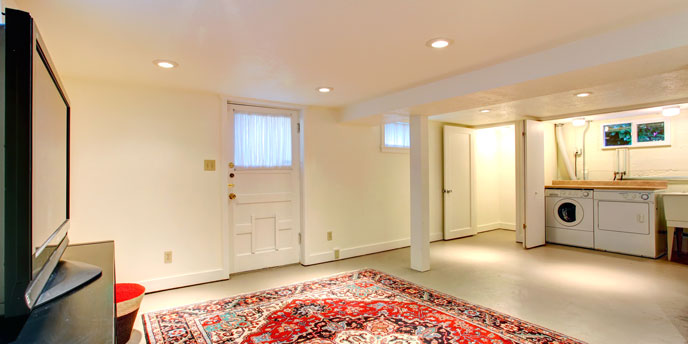 18. Use Your Cool Basement Air
If you have a basement, you already know you don't have to do much to keep it cool. It's probably already your oasis on hot summer days. But with a few strategically placed fans, that cool basement air can help keep your house cool in summer naturally.
One inventive way to cool a room with fans is to set a box fan near the foot of your basement steps and have it blow a cool breeze upstairs. If you have a straight shot into one of your main living areas, you'll notice a difference. Use another fan to direct the air elsewhere if you have extra room. This will also aid in flushing warm air out of your open upstairs windows.
19. Make a DIY Air Conditioner
A sweltering summer day makes anyone living without air conditioning think outside the box. In a pinch, keeping a bowl of ice in front of a small fan is a great way to feed some cool air into a room. If you don't want to spill water after the ice melts, fill a few empty soda pop bottles with water and freeze them for a no-muss, no-fuss solution.
While that's the first DIY air conditioner that usually springs to mind, the creative ideas don't stop there. Check out these other hot weather hacks using empty soda bottles, milk cartons, buckets and foam coolers.